Russell made it to Vietnam earlier today, our time.  After more than 24 hours of travel he landed in Ho Chi Minh City, where he will be spending his first few days in the country and undoubtedly will create his first bits of Vietnam-influenced artwork.
Ho Chi Minh City, formerly Saigon, is the largest city in Vietnam.  That is saying something, because Vietnam — to my surprise at least — is the 13th most populous country in the world, with more citizens than any country in Europe.  More than 9 million Vietnamese live in the Ho Chi Minh City metropolitan area.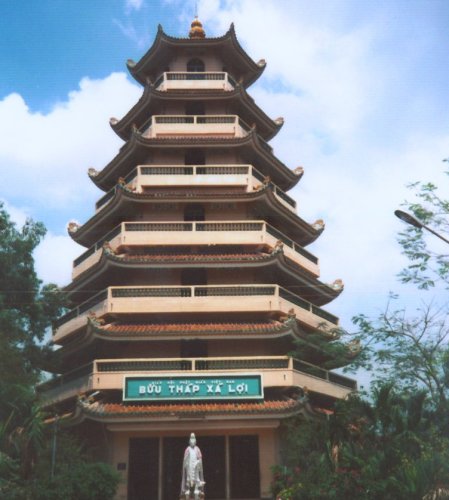 Americans of a certain age think of Saigon and think of the Vietnam War and the chaotic scenes of the fall of Saigon.  The Vietnam War, and the prior French war, also apparently are not far from the consciousness of the Vietnamese or the visitors to Vietnam; the Ho Chi Minh City travel guide indicates that the most popular attraction in the city is the "War Remnants Museum," which features "shocking evidences of the atrocity committed by foreign aggressors during Vietnam's two national liberation wars."   Other popular attractions include the Ho Chi Minh Museum, the Reunification Palace, and the Cu Chi Tunnels, which were used during the Tet Offensive and during the attacks that led to the fall of Saigon.  A less war-oriented attraction is the Giac Lam Pagoda, pictured at right, which was built in 1744 and is considered the oldest pagoda in Ho Chi Minh City.
It looks like Russell will be in for a wet stay in Ho Chi Minh City.  The 10-day forecast shows rain every day, which is no shock:  It is the rainy season there.  It also is inexpensive.  Russell was able to book a good hotel for about $20 a day, and his brief report on his arrival this morning suggests that the American dollar still has some significant purchasing power there.