Last night we had a special treat:  listening to the opening program of the 110th season of the Austin Symphony Orchestra.  It was a wonderful performance that kicked off with Handel's The Music for the Royal Fireworks–featuring our favorite Principal Oboist playing my favorite genre of classical music, baroque–followed by Benjamin Britten's Les illuminations, and closing with Aaron Copland's beautiful Appalachian Spring.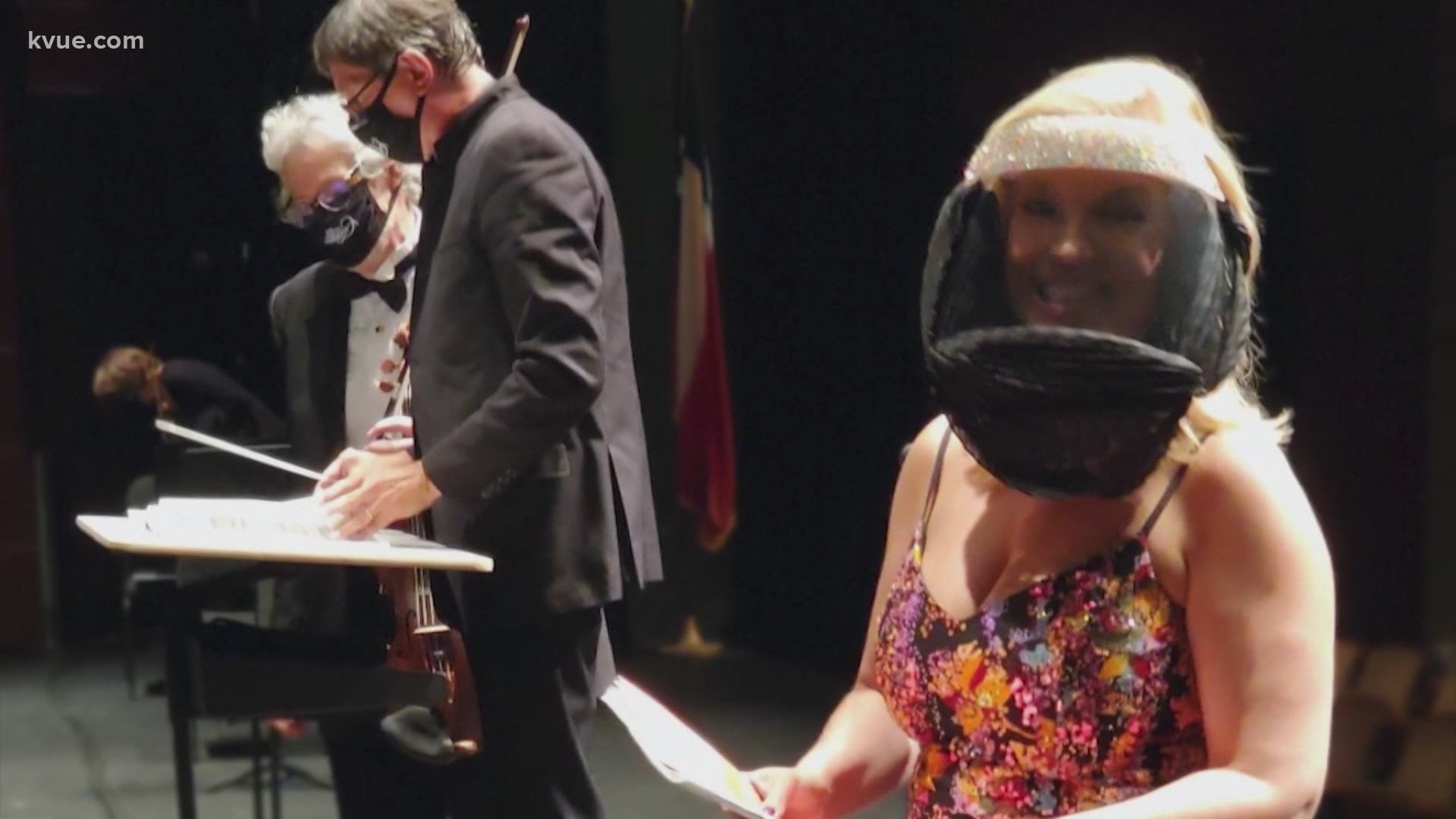 It was an excellent program — but like pretty much everything else these days, it was of course strictly a virtual experience. The performances were videotaped and recorded, and we watched and listened to them on a laptop.  It was clear that the orchestra had taken great care to avoid any potential pandemic transmission problems, including having the conductor and all string players wear masks, and separating the horn and wind players from each other by plastic dividers.  And Mela Dailey, the soprano who sang brilliantly as the centerpiece of the Britten work, wore a contraption that looked a lot like a beekeeper's headpiece.  Amazingly, the device did not seem to interfere with her dynamic voice, so a tip of the cap to whoever has spent the last few months designing COVID-safe devices for classical music singers.
Of course, a virtual performance is lacking one thing that is an important part of the live music experience:  the audience.  There's a definite energy generated by a concert crowd, whether it is the subdued, pre-performance murmurs, the immediate hush when the conductor enters, the thunderous applause and shouts when each piece concludes, or the standing ovation at the end of the program.  I'm sure the performers miss that energy.  The ASO tried to emulate a live performance by having an intermission, but that's difficult to recreate virtually, too, because during intermission the crowd is the performer–filing out, getting a drink, and talking excitedly about the first part of the performance.  Last night the ASO tried to fill the intermission void with recorded performances by the principal harpist and the principal tubist.
So we've now had our first virtual concert.  It wasn't the same as attending a live performance, obviously, but it was nevertheless hugely enjoyable to listen to some beautiful music and support one of America's many deserving cultural and arts organizations, all of which have been hit very hard by the pandemic and need the support.  A virtual performance may not be quite as terrific as the real thing, but virtual music is better than none at all.