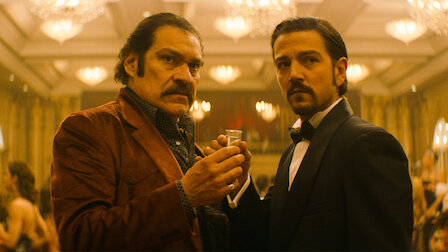 We're always on the lookout for binge-watching options during the winter months. On the recommendation of a friend we watched Narcos, which tells the story of Pablo Escobar and the cocaine cartels in Colombia, and immediately were hooked. When we finished the three seasons of Narcos, we immediately turned to Narcos: Mexico, which follows the story of the early days of the Mexican marijuana and cocaine delivery cartels and centers on the brilliant and cold-blooded plotting of Miguel Felix Gallardo, wonderfully played by Diego Luna and shown above at right. Narcos: Mexico was at least equally good and maybe even better than Narcos, from a storyline standpoint, although it lacked the crazed, murderous, plot-driving charms of Wagner Moura, who is terrific as Pablo Escobar.
The Netflix cautionary language for the Narcos shows warns viewers that they should expect to see scenes of graphic violence, sex, nudity . . . and smoking. It amuses me that smoking is put up there with the blood and gore, but if characters smoking bothers you, you're not going to like these shows, because the characters smoke a ridiculous amount of cigarettes, joints, and cigars. I guess if you're always in danger of gunmen crashing into your homes and putting a bullet in your head, concerns about lung cancer aren't at the forefront. And the warnings about violence are accurate, too. The Narcos shows are about as violent as you are going to get, with lots of characters going down in a hail of gunfire or being tortured to death. The shows clearly aren't for the faint of heart.
But the overall stories — which so far as we can tell closely track historical reality — are riveting, fascinating stuff. The characters start off as good businessmen whose business just happens to be criminal enterprises, but inevitably greed, pride, and machismo turn them down increasingly dark, savage, evil paths, and characters who once seemed okay, apart from their criminal activities, are revealed to be ruthless, bloody psychopaths at their cores. And you'll also marvel at the appalling dysfunction and overt corruption of the Colombian and Mexican governments and military and police forces of those historical eras, and the cowboy-like tactics of the DEA agents who are trying to stop the flow of drugs into the United States by attacking the cartels at their source. The acting is uniformly good, and the feel of historical reality is total.
It all makes for great television, so long as you don't mind scenes of bloody shootouts and deadly beatings — and lots of smoking. We're looking forward to the third season of Narcos: Mexico, when things are supposed to really get crazy.