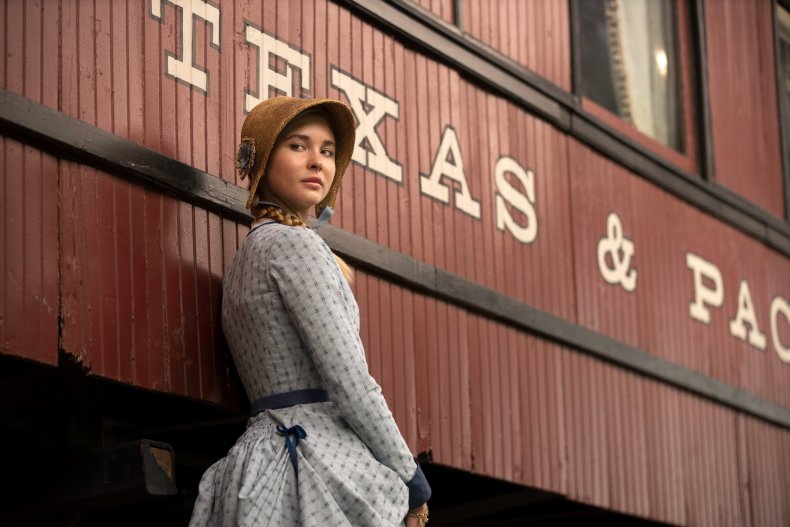 Spoiler alert: This post will discuss events occurring on episode 5 and earlier episodes of 1883.
We've been enjoying 1883, the prequel (by about 140 years or so) to Yellowstone. The most recent episode, however, had one of those plotline developments that you could see coming from a mile away.
1883 follows the story of the Dutton clan. The show begins as they arrive in Texas, ready to head north to Oregon territory. The Dutton family includes flinty-eyed, hard-as-nails father James Dutton, equally tough mother Margaret Dutton, young son John, and daughter Elsa Dutton, shown above upon her arrival, who is ready to take it all in. The Duttons join a ragtag band of hapless German and Eastern European settlers who will form the wagon train, led by Sam Elliott and his faithful lieutenant LaMonica Garrett, that heads north for Oregon and into danger.
Young Elsa narrates the show–a device that I personally find annoying, frankly–and displays more naive, wide-eyed wonder than you might expect from a young woman or that era. She gets to experience the personal freedom of the old West, ditches her dress for pants and becomes a kind of cowhand who helps to move the herd accompanying the settlers, is dazzled by the land, develops a love interest in cowpoke Ennis, goes on and on about her first kisses with him, and finally can resist the primal urges no longer and has her first intimate encounter with Ennis at the edge of the camp.
At that point, we knew poor Ennis was dead meat. And sure enough, only a few scenes later and thanks to the handy arrival of bandits, poor Ennis gets shot and killed, Elsa's heart is broken, and she presumably will lose her rose-colored narration forever.
1883 is one of those shows, like Lonesome Dove, that hits you over the head with incident after incident that shows that the old West was a violent, deadly place. Already we've seen multiple shootings, smallpox deaths, an attempted rape, dysentery, theft, bandit attacks, a suicide, drownings in river crossings, and clueless German settlers bitten on the butt by rattlers as they've answered the call of nature –and we know an Indian attack is coming, too. But none of those prior events really dented Elsa's doe-eyed sense of innocent wonder about the world, and the viewer knows that if she's going to make it she needs to become a tough and worldly as her parents. And that's why poor Ennis, who was a very likeable character, clearly had to go, and why viewers like us could see it coming.
Predictability in storylines isn't necessarily a bad thing. When you get readers, or viewers, interested enough to be thinking about what's going to happen you can be pretty sure that you've got them hooked. Now that Elsa has had her brutal firsthand experience with the terrible realities of life, she'll be changed forever. We can only hope that we get a little bit less of the voiceover narration in the bargain.