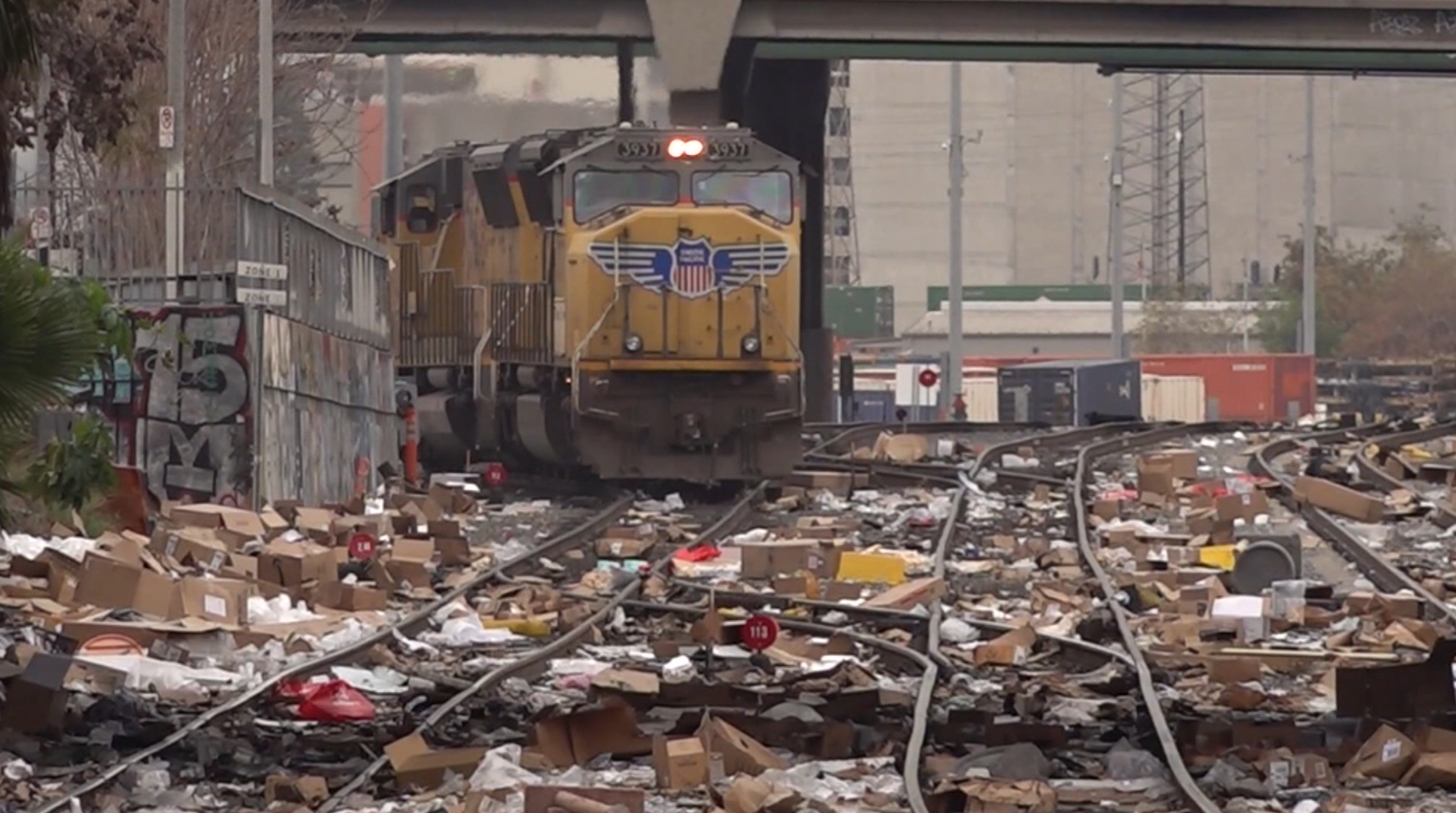 There's a serious, new crime problem out in Los Angeles: As the Los Angeles Times recently reported, thieves have been breaking into cargo trains in the Los Angeles rail yard, stealing packages being shipped, breaking them open, and running off with the contents–leaving the railyard littered with shredded boxes, wrapping, and other packaging debris. The Times article describes the situation as a "wave of rail car thievery that officials say has been on the rise in recent months." The Union Pacific railroad is reporting a significant increase in thefts and has brought in drones and additional security and is appealing to local law enforcement for help in policing the rail yards.
You may not have seen the reports on the rail thefts, but you might have unknowingly experienced them if you didn't get a delivery of a product that you ordered on line. All of those packages that have been taken from rail cars and opened were being shipped to someone, and now they won't be reaching their intended destination. Many goods being shipped in our internet economy are transported by rail, and if they are intercepted and stolen by thieves they aren't going to make it to your front porch.
Why are the rail yard thefts spiking? The Times article quotes officials who say that the Los Angeles rail yard is a bottleneck, who note that a large homeless encampment is nearby, and who blame Union Pacific for not employing more security in the area. Others think there are deeper causes. The City Journal, in an article on the rail thefts, contends: "These recent rail thefts are an example of what happens when a progressive prosecutor—in this case Los Angeles County district attorney George Gascón—virtually eliminates nonviolent property crimes from a state's penal codes by declining to prosecute such cases." The City Journal article reports that Union Pacific has reached out to DA Gascon to ask him to reconsider his prosecution policies, and Gascon's office has responded that it is working with law enforcement on the issue and says it has filed charges in some cases while not pursuing others due to lack of evidence.
Some people dismiss property theft crimes as minor and inconsequential and argue that police and prosecutors should focus on violent crimes rather than worrying about stolen and opened delivery packages. But not all of the packages being stolen and opened contain harmless consumer goods; among the items that have been stolen from the cargo trains are shipments of handguns and shotguns. And if criminals conclude that there is no risk in committing crimes, they have every incentive to expand their criminal activity. If a culture of lawlessness develops, it isn't going to stop at the rail yard fence line.
Equally important, the security of every link in our fragile national supply chain is important: our ever-growing internet economy can't work if thieves can brazenly steal packages destined for consumers from trains–or trucks, or other delivery methods–without fear of being caught or prosecuted. If Amazon and the countless other internet retailers can't safely ship packages, the consequences in terms of jobs and economic activity could be immense. And if you are one of the many people who used internet shopping as a lifeline during the shutdown periods in the COVID pandemic, you should be concerned about that lifeline being snipped by unprosecuted crime.