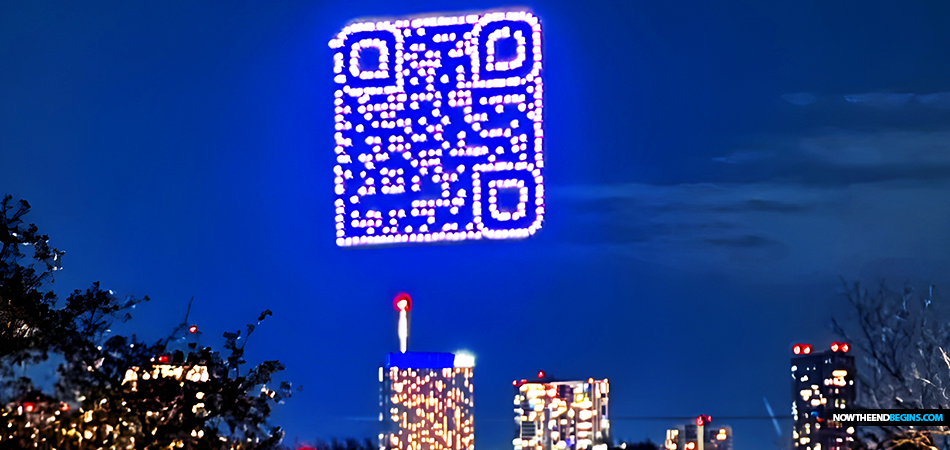 Over the weekend, 400 drones came together to form a giant purple QR code floating over the city of Austin, Texas. The QR code formed by the fleet of drones, which was hundreds of feet high, apparently was scannable and was part of a promotion of the upcoming release of the sci-fi series Halo on the Paramount+ network. It occurred during Austin's annual SXSW (South by Southwest) music, film, and interactive media festivals.
According to a report in the Hollywood Reporter, people in Austin were variously "freaked out," annoyed, or impressed by the marketing stunt. Having been to Austin several times, I seriously doubt that many of the young, uber-cool Austinites were "freaked out" by the display, unless they were already under the influence of some powerful mind-altering substance or were part of the fringe group that believes that we all really live in a computer simulation, as in The Matrix, and saw this as a giant, revealing glitch in the programming. I'd be surprised if most of the residents in Austin's capital city did anything other than take a selfie with a comical expression on their faces and the giant QR code in the background, post it on all of their social media accounts, and then return to drinking their butter coffee or one of the many Austin area craft beers and riding their scooters around town.
What this really means is that soon the skies everywhere will soon be cluttered with drone QR code ads. Now that the Halo marketers have shown the way, copycat displays cannot be far behind. Drones are cheap and easy to program, and QR Code formations should not be hard to design. I wouldn't be surprised to see some QR code floating above Columbus on the day of the Ohio State-Notre Dame football game this coming September, or during next year's Arnold Festival. And ultimately the skies will be filled with competing QR codes and other ads, as seen in many dystopian sci-fi movies about grim and overcrowded futures.
In a way, this development was inevitable. Given the prevalence of marketing in the modern world, we can expect that eventually ads will be everywhere you look, coating every surface and floating in the skies above. The world will be like the internet, and the only issue will be where the next pop-up ad will appear as you walk down the street.