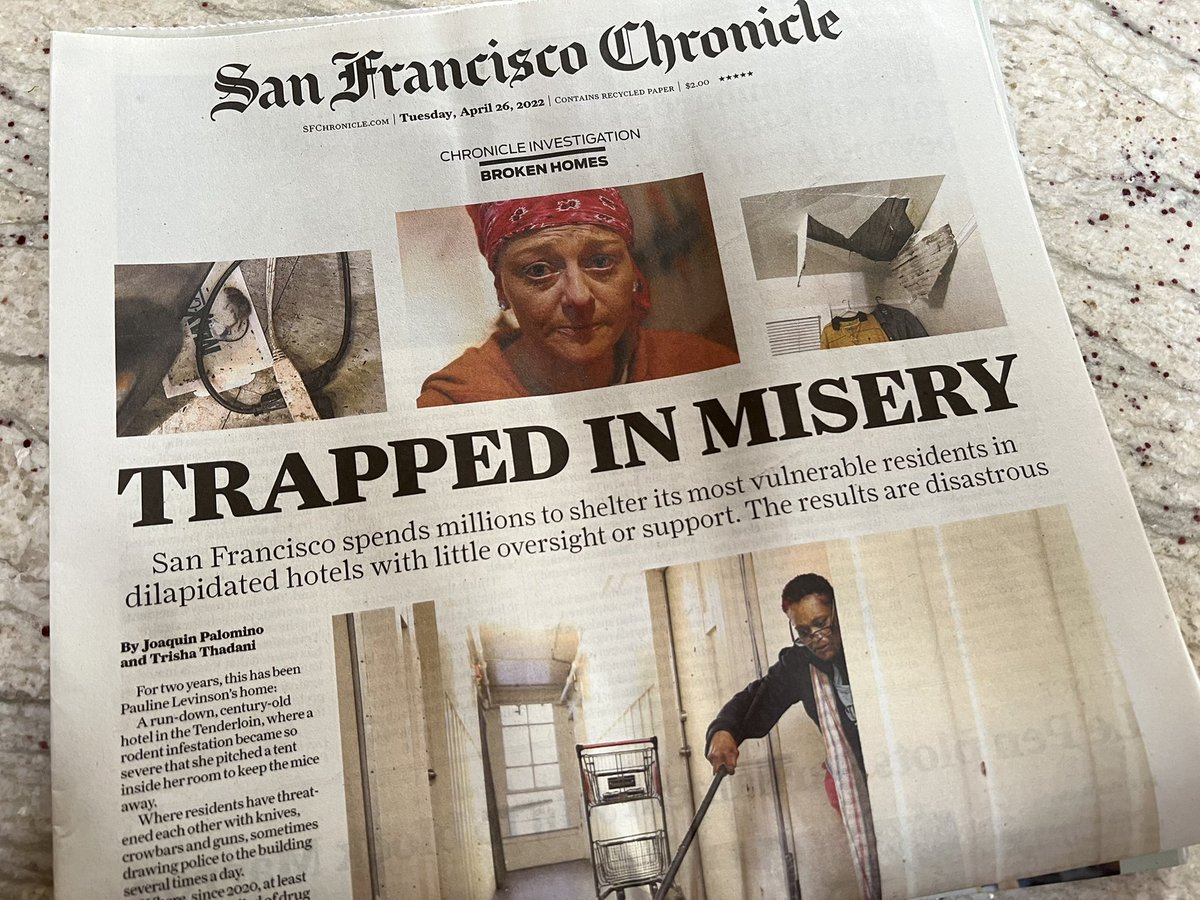 All big cities have some kind of homelessness problem. San Francisco's is worse than most. To address it, San Francisco adopted a "housing first" policy and dedicated millions of dollars of the city's $1.1 billion budget for the homeless to implementing it. The concept was to tackle the issue by getting homeless people off the streets and putting them into "single room occupancy" (SRO) hotels purchased by the city for that purpose.
A recent San Francisco Chronicle investigative report took a look at the program and concluded that the results have been "disastrous"–as the headline above indicates. The Chronicle article is behind a pay wall, but an article in the City Journal summarized the gist of the Chronicle article as follows:
"The horrors of SROs were put on display to the public in a recent San Francisco Chronicle feature. The story tells of people living in buildings with collapsing ceilings, toxic mold, vermin, noxious odors, constant noise, broken appliances, and unchecked violence. It also notes that at least 166 people fatally overdosed in these hotels in 2020 and 2021. This official number, however, is suspicious for being so low. San Francisco's medical examiner reported at least 1,300 overdose deaths citywide in the last two years, most commonly for illicit fentanyl combined with other drugs."
The City Journal article indicates that life in San Francisco's SRO hotels is a nightmare. The article quotes one former resident:
"'There needs to be a better vetting process,' says 25-year-old Darren Mark Stallcup, who until recently lived in an SRO. 'The city was moving everyone in; people who were sketchy, violent. They were fentanyl addicts, just out of jail, or in gangs. People were breaking my door down. I would wake up having to throw punches.'"
The "housing first" policy may be good hearted, but it evidently isn't working because housing is only part of the problem. Mentally ill people need special care; drug addicts need treatment to kick the habit. And putting violent people, mentally ill people, current users, and recovering addicts into the same facilities is only going to create a toxic stew and dangerous environment that won't help anyone. The City Journal article quotes another "long-time SRO resident," who explains: "If you're a woman, your life will be a living hell. No one cares. High functioning people regress. Some want to stay sober, but they can't. Eventually they pick up a pipe again because almost everyone around them is using."
Homelessness is probably the most complicated social problem we face in America these days, encompassing a host of challenging issues like drug use, mental illness, spousal abuse, education, affordable housing, and employment, among others. San Francisco's experiment with its "housing first" policy indicates that providing housing, by itself, isn't going to solve the problem. If you don't tackle the root causes, you're not going to make any progress.