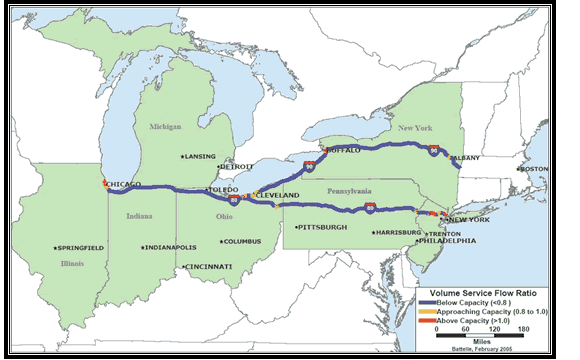 Today I'm getting up early and driving back to Maine. That means I'll be making a crucial choice: the northern route, or the southern route?
It's the kind of tough, coin-flip decision of which road trips are made. The "southern" route takes me on I-76, on I-80 though northern Pennsylvania, then up I-84, past Scranton, to slice across southern New York and then head north through Connecticut, Massachusetts, and New Hampshire. The northern route, on the other hand, takes I-71 to I-271 and then up to I-90 and follows it through northern Ohio, the stub of Pennsylvania where Erie is located, then past Buffalo and across the entire width of New York and pretty much the entire width of Massachusetts, too.
Which way to go? Do you take the risk of hitting a lot of traffic as you pass the Cleveland suburbs, Buffalo, Rochester, and Albany on the I-90 route, or is the bigger risk the crummy road conditions and inevitably crappy traffic in the Scranton-Wilkes Barre corridor or as you roll through Hartford, Connecticut? Do you take the I-90 turnpike toll road, dealing with the issues that arise when, like all Midwesterners, you don't have one of those "EZ Pass" units that allow you to zip through the toll stations, or do you enjoy the pleasures of the freeway? Which route is more likely to have a disabling accident, or active roadwork that will back up the traffic for miles?
I've driven both routes, and it's basically six of one, half a dozen of the other. They are so close in terms of distance and likely travel time that even the most careful analysis could be upset by simple bad luck. I won't be deciding for sure until I hit the spot on I-71 for the I-76 turnoff and go with a gut check. At that point, I'll ask myself, in my best Dirty Harry voice: "Well, punk? Do you feel lucky?"