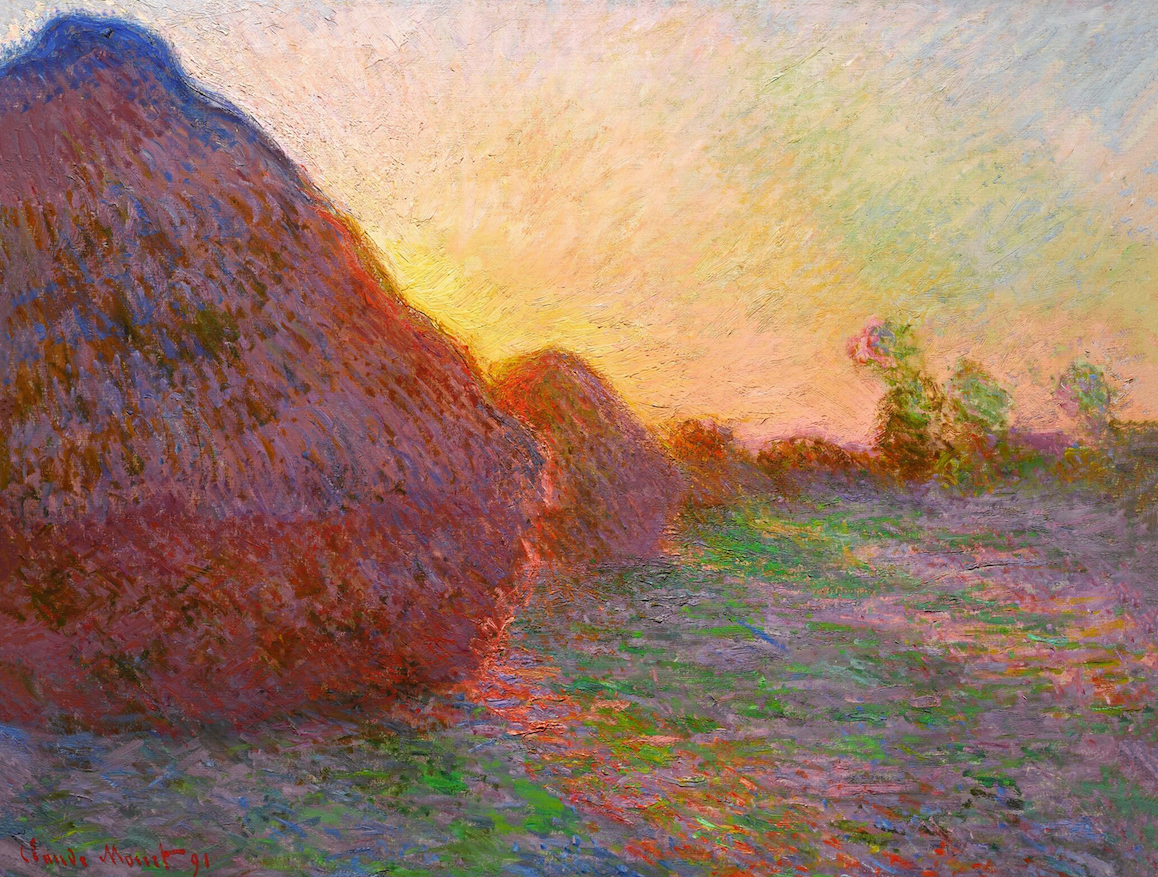 The primary objective of protests is to call attention to your cause–and to do so in a way that makes people sympathetic to your position. The lunch counter sit-ins and freedom marches of the '50s and '60s to protest racism and segregation in the American South, in which peaceful protesters were attacked and manhandled by bigoted authorities and police dogs, were examples of protests that successfully turned public opinion.
The recent protests in which climate activists hurl food at famous paintings and then glue their hands to walls, in contrast, seem ill-suited to achieving that basic goal.
Monet's magnificent Les Meules, shown above, is the latest painting to endure the indignity of being the target of thrown food, in the form of mashed potatoes. The mashed spuds were tossed by members of "Last Generation," a group that wants the German government to stop using fossil fuels. The incident followed a similar escapade by members of "Just Stop Oil," who splattered tomato soup on one of Vincent Van Gogh's Sunflower paintings in the National Gallery in London. In both instances, the food tossers then glued their hands to the walls holding the paintings. Fortunately, both the Monet and the Van Gogh were covered by glass, so no permanent damage was done.
There's no doubt that the protests got media attention, and some people on the political spectrum have dutifully argued that the food-throwing protesters are "totally justified" in their actions due to concerns about climate change. I suspect, however, that a far larger number of people object to converting beautiful works of art into props for acts of political theater and turning quiet art museums into turbulent protest zones. It just seems wrong to throw things at artwork–especially when the paintings have nothing to do with the fossil fuels or climate change that are supposed to be the whole point of the protest. Committing assaults on paintings of flowers and haystacks doesn't exactly drive home a point about global warming.
Gluing your hands to walls and floors doesn't make much sense, either. Either the palms of the protesters are going to be painfully de-skinned when police arrive, or they are going to risk being left glued down in the dark overnight, without access to food, water, or the facilities–an unhappy fate which happened to protestors who glued themselves to the floor of a Volkswagen facility recently. Either way, it doesn't exactly send a message that the protestors have intelligently thought through the potential consequences of their actions.
We'll see whether the food-tossing, hand-gluing approach to protesting causes a shift in public opinion in a way that favors the protesters cause–or whether it has the opposite effect. People in Europe, and elsewhere, might not be receptive to the intended message as they approach a winter in which there are significant concerns that people won't have enough fuel to heat their homes.