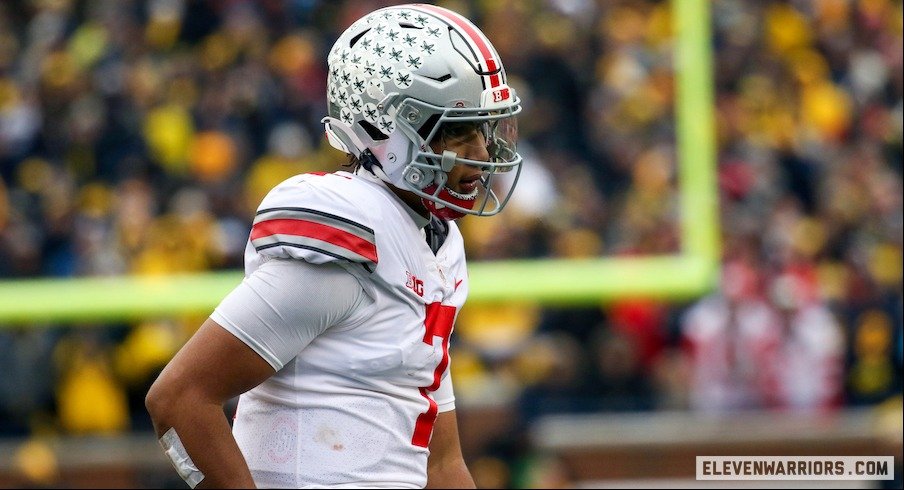 After going 11-0, the Buckeyes laid an egg in the second half of The Game–giving up big plays on defense and failing to score a touchdown on offense. The result was a score that embarrassed both the team and all of Buckeye Nation. Losing to That Team Up North always hurts–and particularly this year, when Ohio State was playing at home and seemed to have so much promise.
But the breaks have gone the Buckeyes' way in the days since that dismal loss. LSU lost, USC lost, and today the Buckeyes snuck into the College Football Playoff through the back door. The Buckeyes ended up number 4, and will play mighty Georgia in the semifinals. Since the game will be played in the Peach Bowl in Atlanta, it's basically a Georgia home game. Meanwhile, TTUN, ranked second, will take on plucky TCU in the other semifinal game. The Buckeyes played poorly against the Wolverines, especially on defense–although you have to give some credit to TTUN, which obviously has a solid team. As a result, no one is giving them much of a chance against the undefeated Bulldogs.
I beg to differ. I think this game will be a bit more interesting, perhaps, than people expect. Ohio State has been incredibly banged up on offense, with their top running backs, their top receiver, and one of their key offensive lineman out for The Game. Will those important missing pieces be back for the CFP? It would be nice to see a healthy Jaxon Smith-Njigba playing alongside Marvin Harrison Jr. and Emeka Egbuka, and Miyan Williams and Trevyon Henderson running like they did earlier in the season. As good as Georgia's defense clearly is, a healthy Ohio State with all of its weapons will be a handful. If all of these guys play, and Ohio State's offensive line is intact again, this game will offer the irresistible force versus immovable object/OSU offense versus Georgia defense matchup that people have been eager to see for several seasons now.
The bigger question will be the Buckeyes' defense. Georgia has a good offense, but the Buckeyes' problems in The Game were self-inflicted, with lots of missed tackles and big play breakdowns. Can coffee-guzzling defensive coordinator Jim Knowles figure out how to fix those problems? Those of us who watched Ohio State teams of days gone by, when the Buckeyes played rock-ribbed defense, chafe at the blunders and poor fundamentals on D. I think the key will be whether the Buckeyes can play some tough D in a big game.
As for C.J. Stroud–well, he was very gracious after the defeat in The Game, and showed some real character. I think he will take advantage of his second chance and play a good game against the Bulldogs. I'm not saying the Buckeyes will win, but I think this game will be a lot more competitive than people think, especially if Ohio State is healthy.
This game will make New Year's Eve a much better holiday than just sitting at home watching Dick Clark's New Year's Rockin' Eve.