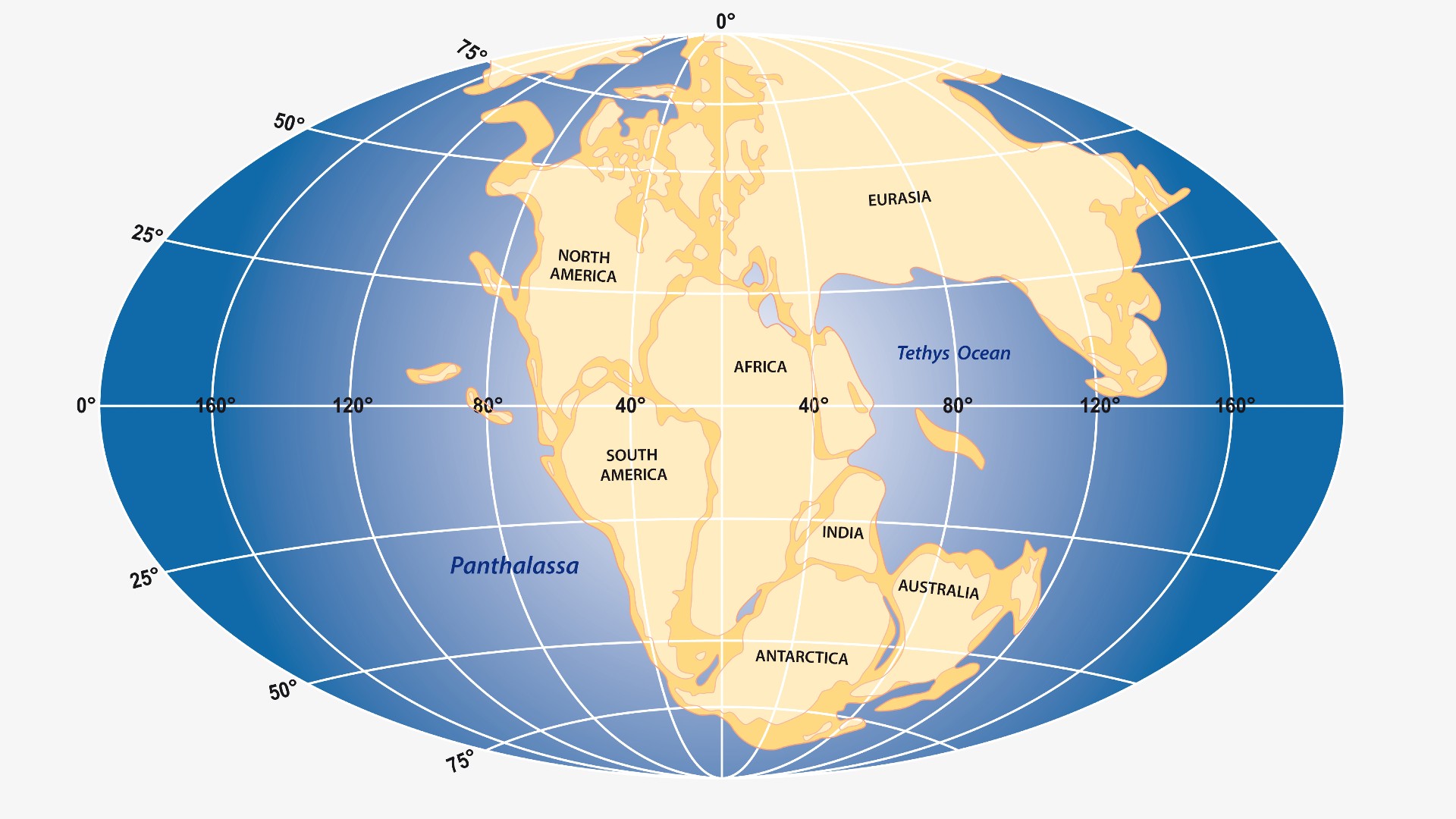 For about 100 million years, all of the land masses of Earth combined to form one huge supercontinent that we now call Pangea (or Pangaea). When Pangea existed, the current continents fit neatly together, like the pieces of a jigsaw puzzle, as shown in the illustration above. The east coasts of North America and South America were wedged up against Africa, and it would have been possible to take a delightful driving trip to anywhere in the world–such as heading due east from Columbus, Ohio across the northern rim of Africa and then up through Eurasia to the eastern tip of Siberia. Careful packing would have been a must for that journey!
Pangea was just one of several supercontinents that have existed–and will exist again–in the long history of Earth. Like its predecessors, Pangea broke apart thanks to the ceaseless grinding movements of the tectonic plates that comprise Earth's mantle. Those movements caused North and South America to drift gradually westward, creating the Atlantic Ocean, and Africa and Antarctica to fall away to the south and Australia to head east.
The best current evidence of the impact of the ongoing churning of the Earth's crust is found in Africa, which geologists have determined is slowly splitting apart. The Somalian plate in east Africa is shearing off from the Nubian plate on which the rest of Africa is situated. Each year, they move a few millimeters farther away from each other–meaning that in a few million years a considerable gap will open, a new ocean will be created that fills the gap, and there will be a new, large island off the east coast of a smaller Africa.
In an even longer period of time. the tectonic plate movements will push North America all the way west to Japan and the east coast of Asia, forming a new supercontinent that they have already dubbed "Amasia." At that point, it will be possible to take a cool driving trip from Columbus due west to the Great Wall of China–with a stop at the Corn Palace and other attractions along the way, of course.