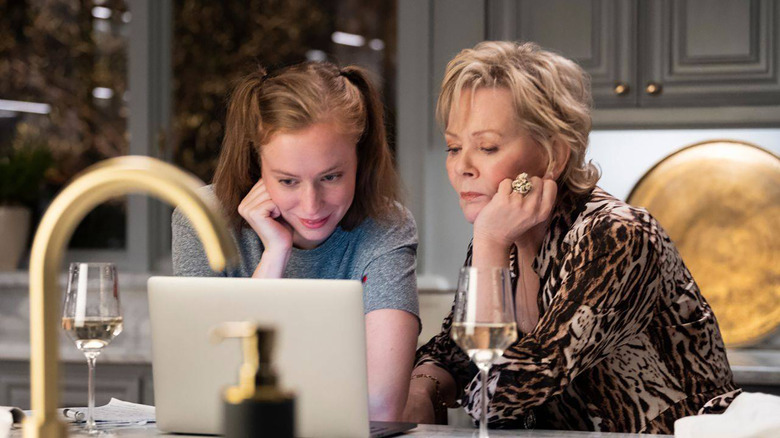 Over the past few weeks I've been enjoying the HBO comedy Hacks. I was looking for something on the lighter side and had heard good things about the show, which turned out to be true.
Hacks tells the story of an aging comedian who has done thousands of performances on the Las Vegas strip, Deborah Vance, and her interaction with Ava Daniels, a young comedy writer who is desperately looking for a gig. At first, Ava's approach to comedy doesn't quite fit with Deborah's one-liner style, and the two don't quite mesh on a personal level, either, because Deborah is a Diva with a capital "D" and Ava is more of a flannel shirt-type whose general worldview is self-deprecating. But as they work on Deborah's shows, they grow closer personally and professionally–although there are a lot of hiccups and blow-ups and cringeworthy moments along the way.
The show does a good job of combining comedy with a serious understory. The situations the characters find themselves in are funny (and at the edge of Las Vegas plausibility), as are many of Deborah's (and Ava's) one-liners, but it's also clear that both Deborah and Ava have faced and will continue to face challenges as women working in a male-dominated industry. And another underlying message also comes through loud and clear: comedy is hard work, and the life of a comedian is not an easy one.
Jean Smart is wonderful as Deborah Vance: funny, unabashedly and unapologetically flamboyant, totally unpredictable in her reactions, and tough as nails in protecting her brand and her career. Smart has totally assimilated her character and radiates authenticity and believability. Hannah Einbinder also is excellent as Ava, who is drawn to Deborah–first out of desperation, but increasingly through admiration and genuine affection. The two have great chemistry, and it shows. And like any good comedy, Hacks has its share of interesting and zany ancillary characters, including members of Deborah's staff, the filthy rich casino owner (very well played by Chris McDonald) who is trying to get Deborah to retire but also serves as her sometimes love interest, Deborah's and Hannah's agent and his unfiltered assistant, Deborah's daughter, and Ava's Mom.
Two seasons of Hacks are out and available for streaming, so it's a good bingeing option during the hot summer evenings, with enough episodes to give the viewer a connection to these characters. Season three is on the way. I'll be interested to see what happens next.