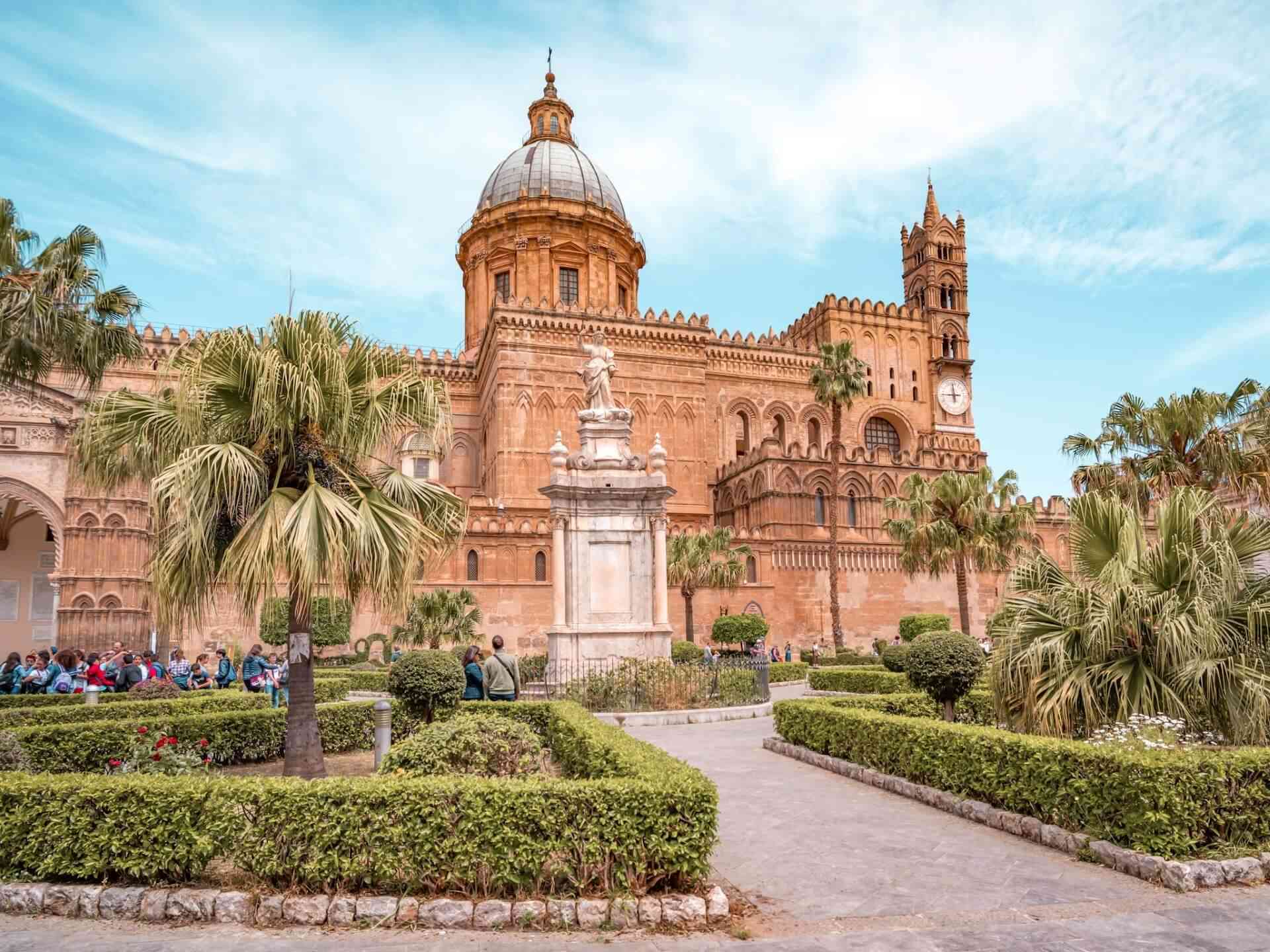 We've heard some really good things about Sicily. Richard went there a few years ago and raved about it — including Palermo, shown above. It looks scenic and interesting, doesn't it? So we planned a trip there last May, with friends who have some family history and relatives in the area, to see Sicily for ourselves.
Alas, COVID hit, and our trip was postponed to the fall. Things weren't better then, so the trip got postponed again, to this coming May. Then we got a call from the airline a few days ago, telling us that the flights on our journey to Italy were designated some kind of special "COVID flights." We would need to bring evidence that we had taken a particular kind of test (that we would pay for ourselves, incidentally) within 72 hours of the flight and received negative results before we could board the first leg of the flight. And we would have to get tested again at airports as we made our way to Rome, and apparently need to follow a similar process before coming home after our tour of southern Italy and Sicily ended. The implication, of course, was that if any positive test results showed up along the way we'd be stuck where we were, unable to board a flight. And the idea of arranging for COVID testing in a foreign country where I don't speak the language didn't seem like much fun.
The process was obviously prudent, safe, and certainly understandable for the airline. And we've paid attention to State Department warnings and gotten shots to prevent various local diseases before traveling to other overseas locations in the past. Still, this process seemed different, because we would constantly be reminded of the brooding, ever-present threat of infection and the consequences if it happened to us. It's not exactly the best way to enjoy a carefree trip to an exotic destination.
Then the other shoe dropped, and our trip was formally cancelled and deferred again — this time for a full year. Everyone hopes that, by 2022, the vaccine will have been fully distributed, the lurking COVID threat will have been resolved, and people will be able to travel again without all of the rigamarole of constant testing and ever-present masks and worry about potential exposure. I'm sure the people of Italy, where tourism is such an important part of the economy, are more eager for that than anyone.
We're not alone in this; COVID-19 has wreaked havoc with spring travel plans for people throughout the world. I'm not complaining, really — it is what it is, we've had to cancel trips before for various reasons, and a masked, tested tour is not how you would ideally want to see a place like Sicily, anyway. But I do think about the recent retirees who made travel abroad an important part of their retirement plans. They're sitting at home, watching the clock tick, wondering when they will actually be able to take the trips that they envisioned, and hoping that those trips will actually happen . . . one of these days.