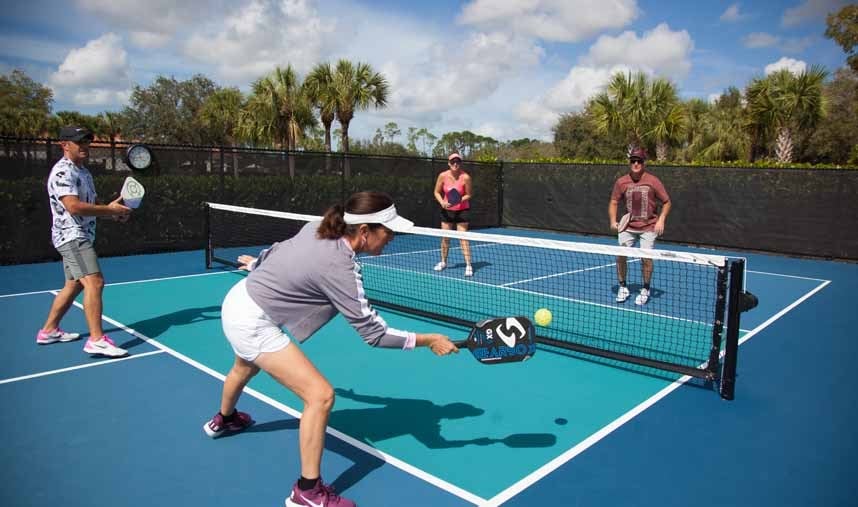 Pickleball is the increasingly popular new sport that is apparently easy to learn and fun to play for people of all ages. (I say "apparently" because I haven't played it yet.) Now, however, some people are wondering if pickleball can somehow save American society. The New Yorker, for example, has published a piece entitled "Can Pickleball Save America?"
Yikes! That's a lot of pressure to put on what is supposed to be a simple recreational sport!
Why are some people focusing on a sport that you play on a small court with paddles and a kind of wiffle ball? The underlying premise is that American used to be a much more social place. Americans routinely were involved in multiple social activities–like bowling leagues, civic associations, charities, fraternal societies, sewing circles, book clubs, and church groups, among others. This was true for generations; in the 1830s, Alexis de Tocqueville, in his classic book Democracy in America, observed that America was a nation of joiners. But recently, that joining activity, and the social engagement it fostered, has withered away to the point that a book was written about the sad phenomenon of Americans "bowling alone."
And that's where pickleball comes in. The sport's broad accessibility, the zeal with which pickleball fans have recruited new participants, and the intrinsically social nature of the game, with players facing each other only a few feet away, raised hopes that pickleball could rekindle the joining spirit that de Tocqueville found and convert a nation of lone bowlers into a more community-minded society. And underlying that notion, I think, is a hope that if more Americans got out and interacted with each other, in settings that don't involve politics or tweeting, perhaps our politics could become a bit less divisive and a bit more community-oriented, too.
So, can pickleball get us back to the America of yore, or will other, familiar forces like money, professionalism, and branding splinter the pickleball community, and thwart any hopes of the sport saving the country? The New Yorker article suggests that the jury is still out, while the pressure is on. It's an interesting read. Pickleball has a lot going for it, but the forces at play are powerful ones. Those of us of a certain age remember when people thought the internet would be a tool that would allow for enhanced participation in society through a friendly exchange of ideas. How did that turn out?