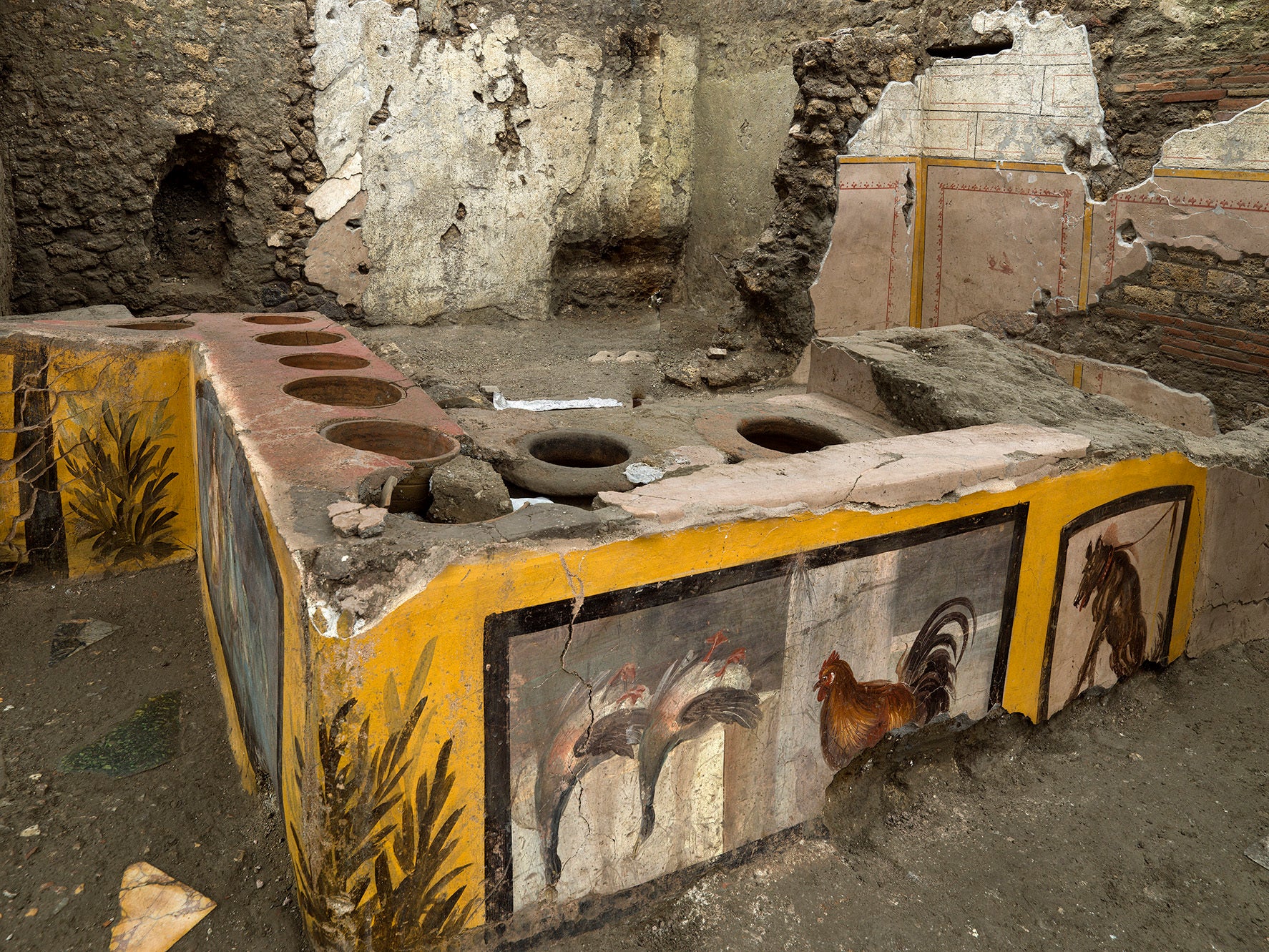 Pompeii — the Roman town that was buried by an eruption of Mt. Vesuvius in 79 A.D. — continues to tell us some interesting stuff about the everyday lives of the ancient Romans. Excavations have uncovered apparent brothels, bars, homes — and now, a fast food stand, pictured above, that was operating on a busy street corner.
The fast food stand evidently was closed in a hurry as the volcano spewed the ash that buried the town. Archaeologists found the remains of that fateful day's offerings in some of the pots embedded in the brightly colored food stand. The menu when the volcano blew included duck, pig, goat, snails, fish, fava beans, and a paella-like combo dish. And from that chicken that is painted on the front of the stand, I'm guessing that everybody's favorite poultry was in one of those pots from time to time, too.
The excavation also uncovered a scenario that might be familiar to modern fast-food stand operators. The remains of a person who was lifting the lid on one of the pots of food were also uncovered — leading archaeologists to speculate that somebody fleeing the eruption couldn't resist stopping to grab some free food when they should have kept running.
The ancient Romans seem like they were a lot like us, suggesting that the basic motivations of people — and the key concepts of point of purchase advertising that attracts them — haven't changed that much over thousands of years. The brilliantly decorated food stand, obviously calculated to catch the eye of passersby, with the no doubt delectable smell of simmering food, looks like a modern food truck or an open-air food stand on the street of New York City. The pork, chicken, and fish that was served would be at home in any modern fast-food outlet, too. The only thing that appears to be missing from the Roman stand is a dirty water hot dog.