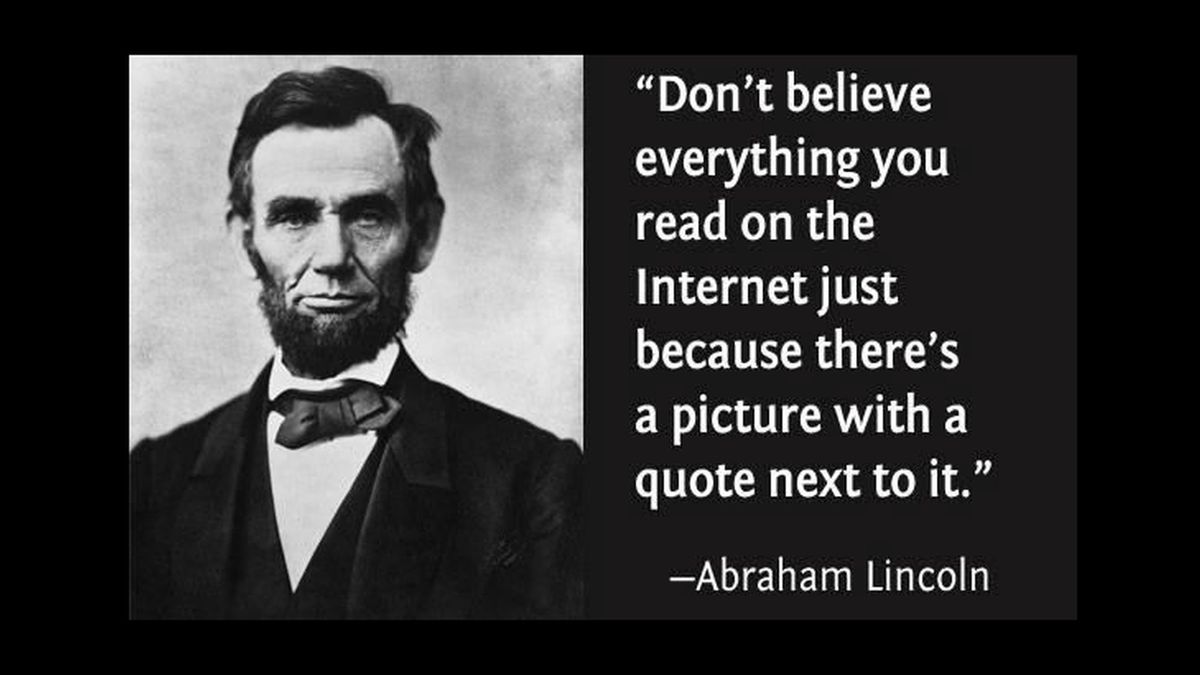 The culture of fakery on the internet is strong. One bit of evidence for this is the prevalence of fake quotes attributed to famous historical figures. You might be scanning the comments to a particular news article and see that some unknown person or bot has inserted a bon mot from a trusted, respected person from the past, with their picture, hoping to quash further discussion with the weight of their authority. The pictures are of the person, but the quotes often are phony.
Abraham Lincoln seems to be a favorite source for fake quotes. So many spurious sayings have been attributed to our 16th President that "fact checkers" write articles to debunk them and Lincoln scholars are forced to weigh in to try to correct the record. You also see fake quotes attributed to Albert Einstein, Sun Tzu, Winston Churchill, Thomas Jefferson, Oscar Wilde, and just about anyone else of any historical significance. The idea is to trade on the reputation of the historical figure to make your point by coming up with a fake quote that is reasonably plausible, or may even have been said by somebody else. It's unfair to the historical figures and an appalling approach to argument when you think about it–but unfair and appalling often aptly characterize discourse on the internet.
And, sadly, it works. People get taken in by the ruse. Years ago, the Republican Party Twitter feed attributed an obviously phony quote to Lincoln and had to endure a few weeks of embarrassment at its foolishness. But even the debunked quotes continue to circulate, next to the pictures of their alleged sources, ready to mislead the gullible. And many people don't exercise skepticism and try to check the actual facts before reposting that Lincoln zinger that they saw.
My grandmother used to say "believe none of what you hear and half of what you see." That's wise advice as applied to life generally and the internet specifically. If you see a quote attributed to Honest Abe that seems too good to be true, it probably is.