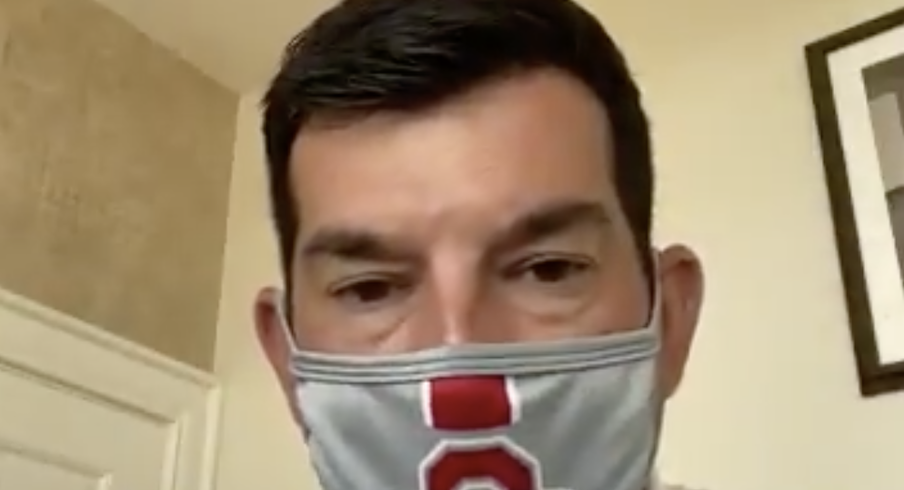 Yesterday, the Ohio State Buckeyes beat in the Indiana Hoosiers in a matchup of two top ten teams. It was an entertaining game, we learned that Justin Fields is in fact a human being, and the Buckeyes hung on to win, 42-35, and remain undefeated. As is always the case with Ohio State, some fans were dissatisfied that the Buckeyes didn't win by a larger margin.
After the game, Ohio State head coach Ryan Day — pictured above in masked mode — commented that people don't understand the sacrifices these college students have made in order to play football games in the midst of a global pandemic. He was not offering the comment as an excuse, but as an observation — one that people should consider the next time they are thinking about criticizing their team.
In the case of Ohio State, virtually everything we associate with the team and the game and the whole Ohio State experience isn't happening this year. There is no tailgating, no Skull Session, no walk through cheering fans to the Stadium, no ramp entrance, or Script Ohio, or band, or tumbling cheerleaders. Games are being played in an empty Stadium, with piped-in noise. It's a dramatically different, and decidedly less energetic, environment, and it's got to have an impact on the players.
But that's only the gameday tip of the iceberg. For the players, there's the isolation from the rest of the student body, in hopes of avoiding infection. There's the monitoring of symptoms and periodic testing. There's the uncertainty of whether or not the upcoming game will be played or cancelled because the other team has COVID issues — which has already happened once this season. And many, perhaps most, of the players and coaches have family members and friends who may be sick, and perhaps seriously ill, with the coronavirus at any given point in time. It's not exactly an ideal environment for intense focus on the upcoming athletic contest. And when gameday arrives, and the experience is so utterly different, the point that this is a surreal time has to be driven home, again. The difficulties no doubt help to explain why some traditional powers, like Penn State and Michigan and Michigan State, are struggling this year.
I'm grateful that the Buckeyes are playing football, because we could all use a diversion, and there's nothing like sports to provide it — even if the games are stripped of the "color and pageantry" we have come to know so well. But I'm also going to try to stay appreciative of the sacrifices of the players and coaches, on both teams, as I watch the games. They are undergoing pressures and difficulties most of us can't even fathom.