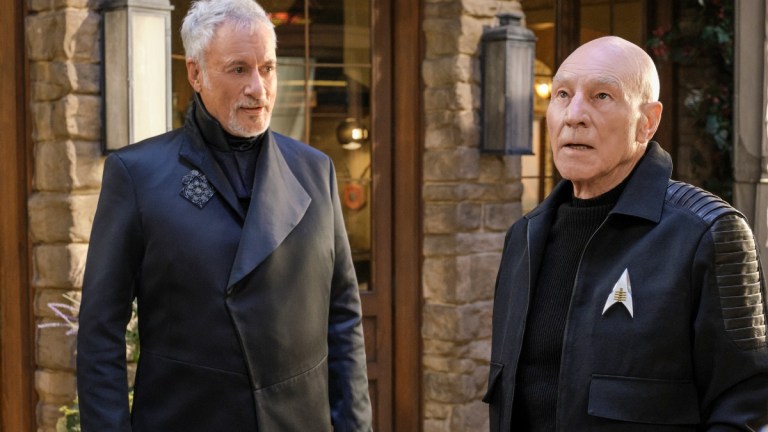 I recently watched the second season of Star Trek: Picard. By the last episode I felt like Patrick Stewart looks in this photo from the show–slack-jawed, slightly befuddled, and dazed at just how crappy this show is.
The premise of the show was a little dubious to begin with. However old Jean-Luc Picard is, we know that Patrick Stewart is over 80. That means he's not going to be out there duking it out with the Gorn or doing any of the other physical stunts and fistfights and dropkicks that Captain Kirk did in the original series. Picard's advanced age wasn't necessarily disqualifying, however, because he was the cerebral starship captain, the trained diplomat who understood that he couldn't put his life and command at risk because he was curious about what might be found on an alien planet. Perhaps Picard would draw upon the diplomatic past, and give us a show about Jean-Luc negotiating a difficult treaty with a new alien species, or something that would be a little on the intellectual side?
Nah! The first season was a mess, and the second season was no better. And here is the problem: this is probably the most uncreative show in the Star Trek universe, and it is depressing, besides. It's uncreative because the writers can't resist bringing back characters from the past–like Data, and Riker, and counselor Troi and Seven of Nine in season one, and Q and the Borg and Guinan and a distant ancestor of Dr. Soong (Data) in season two. It makes you realize how liberating working on the original Star Trek must have been, where the writers and actors were working with a totally blank canvas and didn't feel hamstrung by having to bring back tired old characters and plot lines.
And speaking of plot lines, Picard season two follows a too-traveled road of alternative history, where Picard and his band need to reverse some event that changed history. Of course, the new history is unrelentingly bleak, violent, and racist. But then, every plot line on Picard is pretty darned bleak. We learn of a terrible incident in Jean-Luc's past that shaped his life that you're likely to guess early on, but that takes forever to fully depict. (Silly me! I thought the Next Generation Picard was just a stiff-necked, duty bound, by the book captain who thought he would be better at his job if he didn't pal around with the crew, and I kind of respected him for that.) But everyone on the show is struggling with some kind of depressing problem, whether it is Q, or Guinan, or Dr. Soong, or the astronaut who needs to get on her history-changing flight. It's a downer, which is the exact opposite of what the Star Trek universe is supposed to be all about. The show is so grim that, when Picard is hit by a car at one point in season two, I kind of hoped that the poor old guy would be put out of his misery. Alas! It was just another excuse for a bit more psychoanalysis.
The original Star Trek promised to "go where no man has gone before." How about living up to that promise for a change? How about forgetting the Borg, and Data, and Guinan, and trying to develop some totally new characters and concept, like Star Trek: Deep Space Nine once did? Regrettably, I'm not holding my breath.