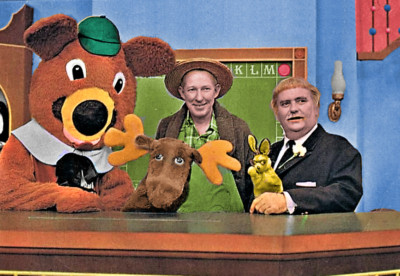 When I was a kid, I enjoyed watching Captain Kangaroo. I liked the Captain, of course, and Dancing Bear and Mr. Moose and Bunny Rabbit, but my real favorite was Mr. Green Jeans. He would come on the show, wearing his trademark green jeans and usually a straw hat and flannel shirt, perhaps play a guitar or sing a song with the Captain, and maybe show you a plant or animal and talk about it. But Mr. Green Jeans was at his best in helping Mr. Moose and Bunny Rabbit play a gentle prank on the Captain–one that usually involved the Captain getting showered with dropped ping pong balls. It was a gentle prank for a gentle show.
I was thinking about Mr. Green Jeans the other day in connection with the gradually dawning concept of people having jobs. As adults, we've lived with the concept of work for so long that we've forgotten that the notion of people getting paid to do something isn't necessarily intuitive, and has to be learned like other lessons of the world. For me, at least, Mr. Green Jeans and Captain Kangaroo were part of that process.
At first, a very young watcher would take a show like Captain Kangaroo at face value, as if the broadcast somehow gave you a brief peek into the actual life of the Captain, Mr. Green Jeans, and their friends. At some later point, you come to understand, perhaps because your Mom patiently explained it to you, that the show wasn't "real," in the same way life in your home was real, and that Mr. Moose and Bunny Rabbit were just puppets, and that Captain Kangaroo was a show put on for kids like you to watch and enjoy.
Later still came the realization that Captain Kangaroo and Mr. Green Jeans were actors, that being on the show was their job–hey, just like your Dad left every day to go to his job!–and that the Captain and Mr. Green Jeans were getting paid to be on the show. That last step in the understanding process was a big one, because it required you to get the concept of money, too, and why people needed to work, so they could eat and have a house and clothes and a car–and the fact that you would undoubtedly need to work, too, at some point. It was part of a bigger realization that the world was a complicated place, and there was a lot more to it than the Captain reading stories and pranks involving ping pong balls.
By then, as you watched Captain Kangaroo with your younger siblings, you thought that being Mr. Green Jeans would be fun. But by then your sights had changed a bit, and your friends were talking about being firemen or astronauts when they grew up.