Yesterday my ESPN app sent me an "alert" that Baker Mayfield, the Cleveland Browns' starting quarterback, had tweeted that he had decided to reverse course and stand for the National Anthem at the start of today's game. (Or maybe it was the other way around; I really haven't been paying close attention to Baker Mayfield's apparently evolving stance on the National Anthem.)
Mostly, my reaction was that things sure have changed in the wide world of sports.since I was a kid. Of course, there wasn't Twitter or social media of any kind in those days, but it's hard to imagine any professional sports figure of my youth sending out any kind of politically oriented messages on the day before a Big Game. Their focus would be exclusively on getting their Game Face on for the contest — or, at least, they sure would want you to think that mental preparation was their sole preoccupation.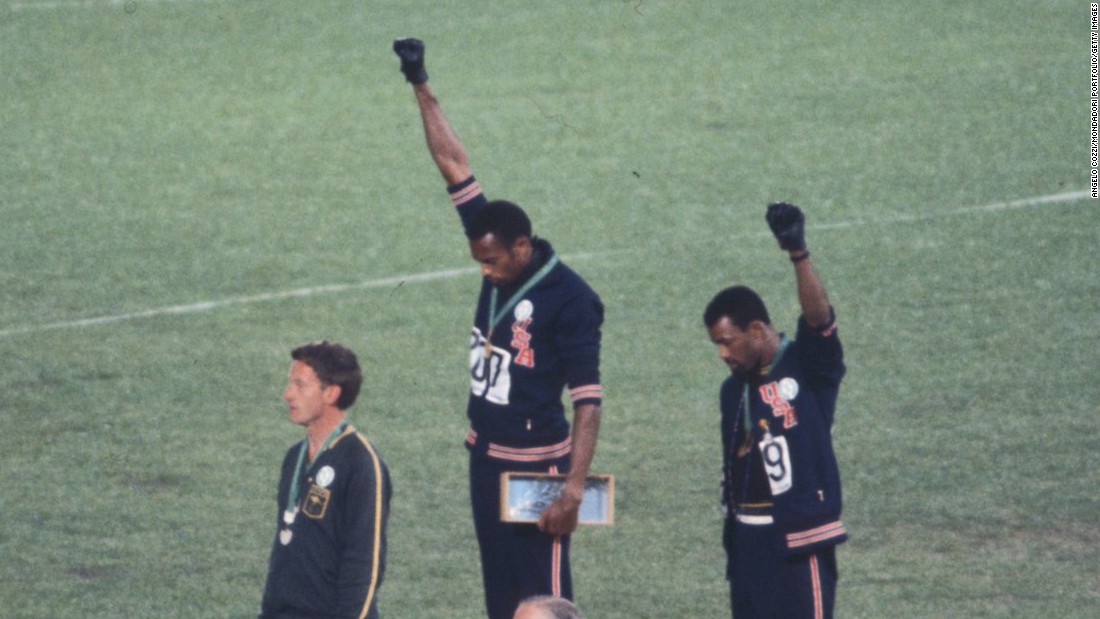 Of course, politics did mix with sports from time to time in those days. The John Carlos and Tommy Smith Black Power salutes during their medal award ceremony in the 1968 Olympics were a big deal, and if I recall correctly Redskins coach George Allen publicly endorsed President Nixon and let him call a play during a game. But for the most part sports was separate, and a chance to get away from politics and enter a world where your sports allegiances were far more important than your political inclinations and people from across the political spectrum could unite in celebration of the Browns' 1964 NFL championship victory or commiserate about the ineptitude of the Cleveland Indians during the '70s.  Sports was a kind of safe space for cocktail party conversation or backyard cookout chatter.
Those days are long gone.  Today's athletes seem to be as immersed in politics as anybody else, and are very open about their views.  I'm perfectly okay with that, and recognize that these days a figure like LeBron James or Baker Mayfield has to be thinking about his position on issues like standing or kneeling for the National Anthem, because other people are going to be paying attention to it,  And athletes are as entitled as the next person to express their political views and use platforms like Twitter to do so.  Of course, political speech adds a new dimension to the sports star-fan dynamic.  Athletes who venture into the political world have to recognize that, just as they have the right to express their political views, fans do, too — maybe by booing, maybe by criticizing what they perceive as inconsistency or hypocrisy in the athletes' positions, or maybe by just deciding that the world of sports is no longer as fun and innocent and apolitical as it used to be and not buying tickets to games or watching broadcasts or buying jerseys with their favorite player's name,   
The days when sports and politics were separate worlds probably will never come back.  Politics has invaded everything, and sports is not immune.  That's the reality, but I do kind of miss the days when you could watch a ball game for a few hours without politics intruding into the triumphs and heartbreaks of the sports fantasy world.