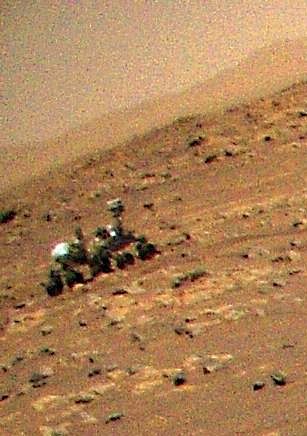 I admit it: I'm a space geek. I avidly followed the space program when I was a kid and watched all of the launches and landings, I joined The Planetary Society when I was a college student and got some great photos of planets taken by exploratory spacecraft of the '70s that I tacked up on the wall around my desk, and I've been hooked on space and planets and the technological advances made in our exploration efforts ever since. That's why I think what we're doing now on Mars is pretty darned thrilling.
The photo above is a picture of the latest Mars rover, Perseverance, taken by Ingenuity, the helicopter/drone that has been taking short flights over the surface of Mars. It's not the greatest photograph from a technical standpoint, of course, but the amazing thing is that it is a picture of human technology taken by another item of human technology on the surface of a distant, alien planet. The picture was snapped on Sunday on Ingenuity's third, and longest, flight over old Mars, when Ingenuity was about 16 feet above the Martian landscape and about a football field away from Perseverance.
We keep making significant advances in the space arena, whether it is developing reusable capsules and rockets, sending drones to Mars, or seeing more entrepreneurs entering the space technology and exploration business. It makes me believe that the next few years are going to see some real landmarks established: space tourism, permanent bases on the Moon, and even human landings on Mars. But for now, a blurry, grainy photo of Perseverance is still a pretty cool thing.