When you were a kid, your Mom probably reminded you — like, maybe a billion times — to make your bed.  Of course, your Mom wasn't looking for army barracks/being able to bounce a quarter off the bed precision.  Her desires were simple:  when she walked past your bedroom, she was just hoping for a room that looked reasonably tidy.  If your Mom was like our Mom, when she reminded you — again — of the need to make your bed, she might have added that your bedroom looked "like a tornado hit it."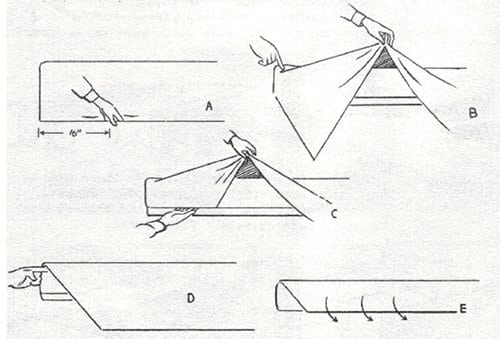 It turns out that in this, as in so many things, your Mom was right — again.
A recent survey found that people who make their beds are more likely to report getting a good night's sleep, and also are having more sex than the non-bedmakers — apparently because an unmade bed is a turn-off to many people.  Let's set aside, for a moment, the issues of exactly how scientific the survey was, and let's forget that second result, because this is, after all, a family blog.  Let's focus, instead, on the notion that people who make their beds are more likely to report getting a good night's sleep.
The survey result that a well-made bed equates with better sleep seems intuitively right to me, for several reasons.  First, I think beds that are made tend to be cooler.  "If your bed is made, the sheets are in the shade" — and I think most people sleep better when their surroundings are cool.  It's the same reason people often flip the pillow to enjoy the cool underside.
Second, I think if you get into an unmade bed you're going to spend the first few minutes trying to get the bed into some reasonable semblance of order, anyway.  While the members of the Made Bed Brigade have slipped between the sheets, enjoyed the cool cotton feel, and are slipping blissfully off to dreamland, the non-bedmakers are wrestling with the hot sheets and covers, trying to get them unsnarled so they can lie down in peace and comfort.  In effect, they are trying to make the bed while they are already in it.  Fussing with the bed, and getting out to tuck in the sheets or smooth the comforter, is not exactly the best way to start the process of falling asleep.
And third, most people tend to subconsciously crave order, and a made bed speaks of order.  The inner voice of your Mom has been obeyed, and you can feel good about checking one of the boxes for the chores to be done during the day.  And when you come back to the bedroom that night, your bed will look attractive and welcoming, rather than like — well, like a tornado hit it.
So, make your bed, already!  You'll sleep better.  And who knows?  There might be other benefits, too.