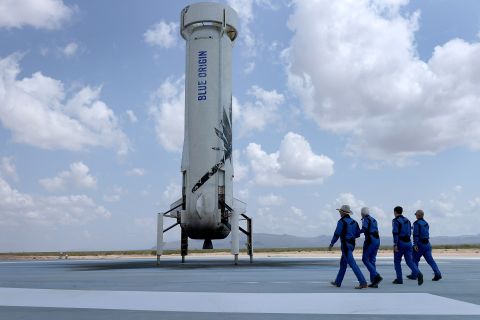 This month we've seen a lot of seriously rich people leave the surface of the planet and journey to the edge of space. Earlier this month billionaire Richard Branson took a flight launched by Virgin Galactic–Branson's company–to a height 50 miles above the Earth's surface, and yesterday Jeff Bezos, who is even richer than Richard, rode a rocket launched by his space company, Blue Origin, to an even higher destination, 62 miles up. And let's not forget fellow billionaire Elon Musk, who hasn't traveled above the stratosphere, yet, but whose SpaceX venture has launched far more rockets and capsules, traveled farther, and advanced space technology more than Bezos' or Branson's companies put together.
Bezos' flight is interesting, and not just because one of the world's very richest men wore a space uniform and took the risk of a potentially fatal mishap. The Blue Origin flight also was piloted by the oldest person yet to fly into space–82-year-old Wally Funk, who was part of a NASA Women in Space program back in the '60s–as well as the youngest person, who also was first Blue Origin's paying customer. The paying customer was 18-year-old Oliver Daemen, whose Dad, a wealthy businessman, bought a seat for him. Oliver filled in for an anonymous person who had paid $28 million for a seat on the flight, then backed out due to "scheduling conflicts." (Really? Somebody paid $28 million to take a trip into space, and then let "scheduling conflicts" delay their departure? Those must have been some pretty serious "scheduling conflicts"!)
Blue Origin hopes to help fund future flights, in part, through space tourism sales. It has announced that it is now officially selling tickets to future flights, and that it has made $100 million in sales so far. It's not clear how much such tickets might cost, but it's obvious that there is a market for a ride into space among some segments of the megarich, and their kids and other family members. And while it wasn't a particularly long ride yesterday–the CNN article linked in the first paragraph above described the trip as allowing the passengers to experience "about three minutes of weightlessness, unstrapping from their seats and floating about the cabin while taking in panoramic views" before coming back down to a landing–it's obviously an experience you can't find anywhere else right now.
We often bemoan the lifestyles and luxuries enjoyed by the super-rich, but in this case I'll gladly tip my cap to Musk, and Bezos, and Branson, and Oliver Daemen's Dad, and the anonymous person with the "scheduling conflicts." If the hyper-wealthy are willing to help fund private ventures in space, and are doing it, in part, so they can enjoy a joy ride to the edge of outer space, I'm all for that. I'd rather see the affluent putting their money down to help pay for new technology that will help us, collectively, move forward into space than frittering it away outbidding each other for Picassos. And, if space tourism is going to become a real thing, obviously the first passengers are going to pay a lot–but by doing so, we can hope that they will help to usher in an era when spaceflights become routine, costs decrease, and tickets are reasonably affordable for the rest of us.