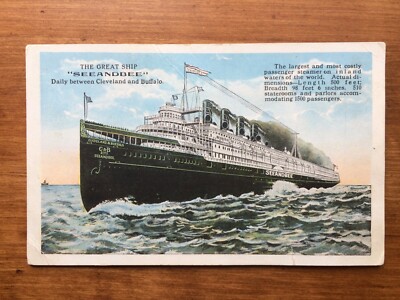 The world of the sports fan is a world of temporary alliances. It's like Europe of days gone by, when secret negotiations, confidential ententes, and treaties named after obscure towns could abruptly and unexpectedly tip the balance of power.
For most football fans, on any given game day they will be strongly supporting (1) their favorite team, and (2) whichever random team happens to be playing their favorite team's hated rival or most challenging future opponent.
Today will provide a good example of this reality. The Cleveland Browns will be taking the field versus the Kansas City Chiefs. I'm guessing that the viewership for the game in Buffalo, New York will be off the charts, with all of the Bills fans rooting hard for the Browns to somehow upset the highly favored Chiefs.
Why? Not because Cleveland and Buffalo are fellow cities on the shores of Lake Erie that once were linked by an eponymously named steamship line, as shown in the picture above. (And the ship that sailed Lake Erie between the two cities was called the SeaandBee. Get it?) No, it's because the Buffalo Bills throttled the Baltimore Ravens yesterday and will play whichever team wins the Browns-Chiefs tilt. Buffalo fans have got to feel that the Bills have a better chance of beating the Browns than the awesome Chiefs, and if the Browns could prevail over Patrick Mahomes and his offensive fireworks show, the Bills would have a home game against the Browns in Buffalo — with a slot in the Super Bowl at stake.
Put those two considerations together, and you're not likely to find a more ardent set of fans for the Cleveland Browns in today's game than the good folks of Buffalo, New York. And if the Browns do somehow find a way to topple the mighty Chiefs, and will be traveling to Buffalo for the AFC championship game next weekend, Bills fans won't have a second thought about immediately reversing allegiances and hating the Browns with a deadly, all-consuming passion.
Machiavelli would be proud.