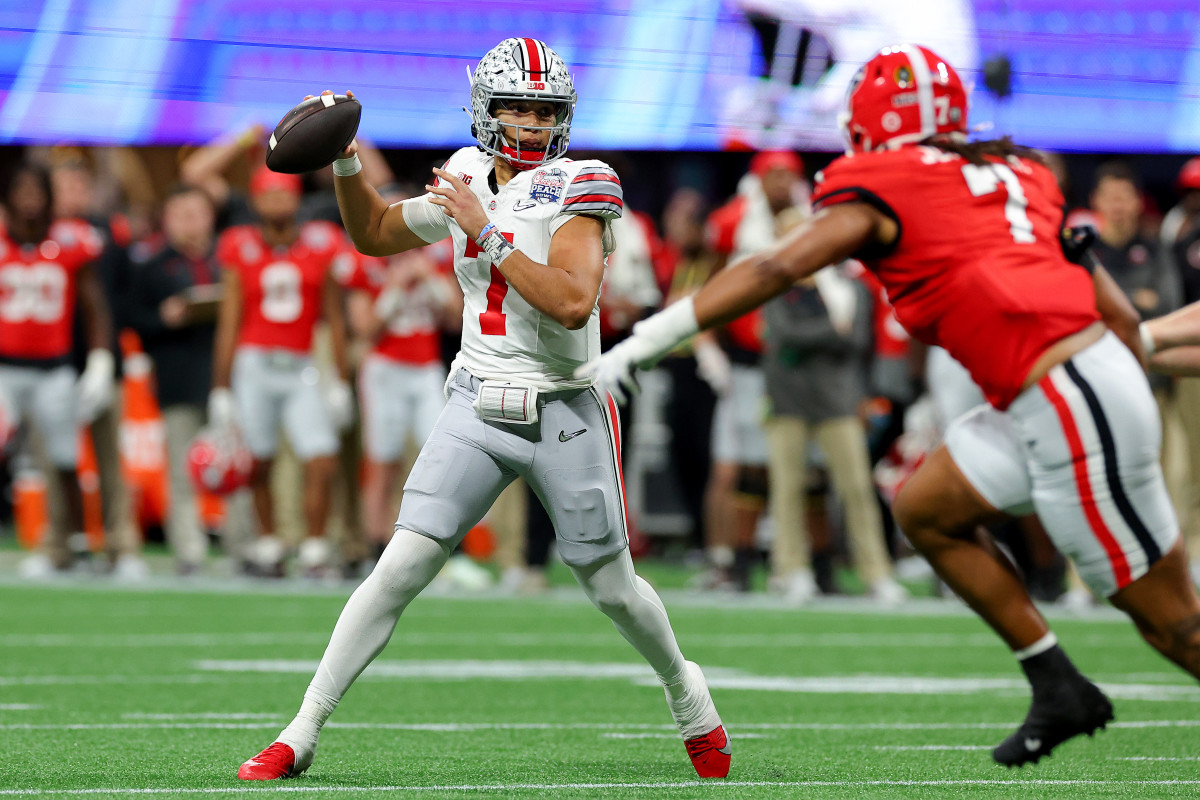 The new year got off to a disappointing start for Ohio State fans as the Buckeyes came up just short against Georgia in the College Football Playoff last night. The Buckeyes and the Bulldogs traded haymakers all night in a classic football game between two powerhouses, and to the extent anyone doubted that Ohio State belonged, those thoughts should have been immediately dispelled by the team's performance on the field. Unfortunately, a defensive mishap–an Ohio State defender fell down, leaving a Georgia wide receiver wide open for a long touchdown that let the Bulldogs quickly cut into a double-digit lead as the game wound down–and a missed game-winning field goal as time ran out knocked the Buckeyes out of the championship game.
After a heartbreaker like that 42-41 loss, it's easy to focus on the end of the game, and one or two plays when the game hung in the balance. I think it is important to take a broader view, and when you do that Buckeye Nation should feel a little bit better. Ohio State has been decimated by injuries on offense, with their best receiver and starting running back out of the game. As the game wore on more pieces of the Ohio State offensive puzzle were lost, as running back Miyan Williams played only a few downs and otherworldly receiver Marvin Harrison, Jr. and tight end Cade Stover went out with injuries. (I'm not quite sure how the blow delivered to Harrison's head on the play that knocked him out of the game, and in my view changed the course of the contest, wasn't deemed targeting, or unnecessary roughness, or some other penalty, but I digress.) But even though the team was without many of its stars, new Buckeyes came in and kept at the Bulldogs. You have to give credit to the guts and determination of Ohio State, which fought on to the final whistle.
And two people who have been criticized by some members of Buckeye Nation–C.J. Stroud and Ryan Day–deserve special credit for the Buckeyes' effort. Stroud was magnificent in the biggest game of the season, throwing for 350 yards and four touchdowns, playing error-free football, and making some crucial plays with his legs, including a scramble that put the Buckeyes in position to attempt the final field goal. He stood up under great pressure, moved in the pocket to gain additional time, and made pinpoint throws that shredded the vaunted Georgia defense. Anyone who has questioned C.J. Stroud's toughness or will to win should feel ashamed of themselves in the wake of last night's game. It has been a pleasure watching C.J. Stroud master the quarterback position. He will be missed.
As for Ryan Day, he showed that he has all of the qualities that you want in a college football head coach. He had his team prepared, fired up, and uncowed, and they executed when all of the marbles were at stake. He called a great offensive game, and he had a trick play up his sleeve–a fake punt–that would have produced a crucial first down but for an official allowing Georgia to call a time out just as the ball was snapped. Coach Day showed guts and fire, and the "next man up" mentality that Ohio State displayed in the face of crippling injuries shows that Coach Day and his staff can instill resilience, too. He clearly is an excellent coach, and Buckeye Nation should feel lucky to have him.
Ohio State always has three goals: beat Michigan, win the Big Ten, and win the National Championship. They did not meet those goals this year, but they showed a lot of character and played well in the glare of the spotlight.